Light Body Retreat
June 16, 2017

-

June 18, 2017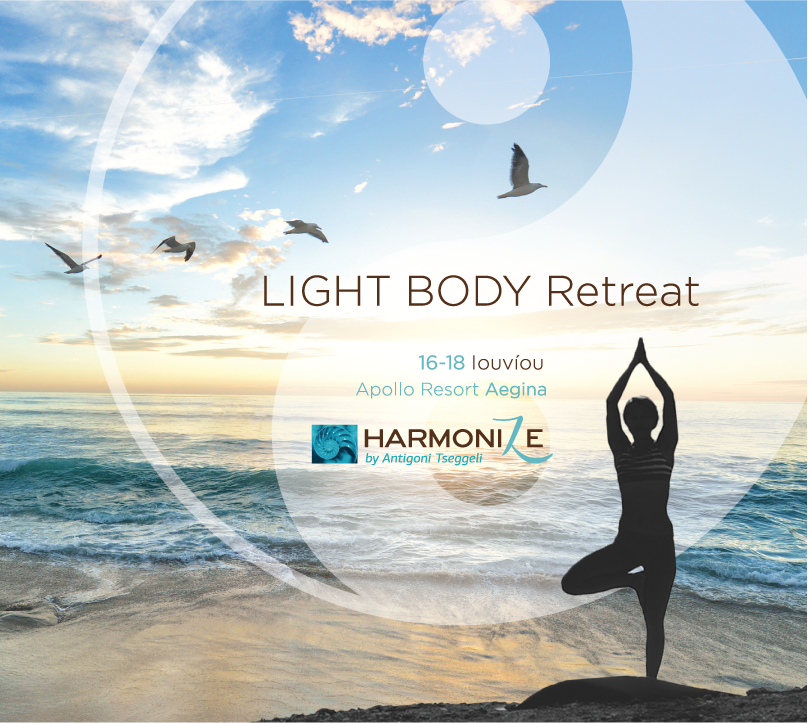 LIGHT BODY RETREAT
HARMONIZE, RELAX, REJUVENATE, DESTRESS, JOY
In APOLLO RESORT in Aegina, by the sea, we are offering a discharging WORKSHOP for rejuvenation and deep relaxation for everybody.
We will explore and practice in special breathing exercises to revitalize our Life Energy
We will apply natural care for Face and body to improve our skin and we will work in pairs for learning and understanding all special techniques of discharging the tension from the bodymind system.
We will sense the joy of caring ourselves in nature and we find the mindfulness that brings our Presence with our Light Body by meditation and work with the 5 elements power.
We will learn how to connect with our own personal rhythm and how to integrate this understanding in our everyday life.
Travel through the power of the 5 elements – 5 phases
Exploring the Breath for health and wellness
Yoga Facial – Meditation- Sound therapy
Special exercises, Body movement, facial and body care
HARMONIZING
As our workshop will be next to the sea, we have the opportunity to work in nature. We will support our work with the watery element of the root of our lives (ESSENCE) and explore our connection to the earth. Giving time and space into our experience, we will allow to be manifested aspects of ourselves
---
Schedule:
Friday 06/16

| | |
| --- | --- |
| 18:00-20:00 | Workout for discharging, introducing the exploration of five phases with soft breathing exercises |

Saturday 17/6

| | |
| --- | --- |
| 07:00-07:30 | Qi Gong (optional) |
| 07:30-10:30 | Free program |
| 10:30-13:00 | Facial Yoga, Beauty special tecniques with natural elements for rejuvenating the epidermis, Therapeutical Exercises Εxchange in pairs |
| 17:30-19:30 | Qi Gong (exercises to balance the energy flow), Exploring the 5 elements into the Nature, LIGHT BODY meditation, Soundtherapy |

Sunday 18/6

| | |
| --- | --- |
| 07:00-07:30 | Qi Gong (optional) |
| 07:30-10:00 | Free program |
| 10:00-12:00 | Learn simple techniques for neck and upper back special harmonization exercises for the whole body |
| 12:00-13:00 | Closing the workshop with interactive game for all participants |
---
Coordinator
Antigoni Tsengeli, Special Aesthetic Applications, Shiatsu practitioner, Physical Activities for Health and Wellness, Agatsou Teacher
Cost 90 € for the workshop
Accomodation (including breakfast) 25 € in a double room, 40 € single​ room​ with view to the garden, +10 € with view to the sea.
---
Something more…
While you watch the Retreat, if you are parents, your children can participate in psychosocial development workshops designed especially for children. These are activities that our little friends (from 5-11 years old) enjoy very well, through the game, they get supplies so that they are able – amongst others – to feel good about themselves, to express their feelings, work together harmoniously, to assume their responsibilities and the most important to be happy!!
The workshops are conducted by Angelica Tsiakoumi, a specially trained Educator.
Cost: 60 €
---
Because places are limited you need to contact us and book your participation by doing a deposit of 40 € in a bank account until 15 May.
For more information and registration:
Email: crystalanti@gmail.com  – Tel.: +30 6972835105 – Web: www.agatsou.gr/antigoni
Email: tsiakoumi@hotmail.com – Tel.: +30 6972664962 (for children)